Scheme Instructions of Anti-DDoS Pro Combining Web Application Firewall
The Anti-DDoS Pro + Web Application Firewall provides three-layer to seven-layer security protection systems, and the application scenarios include games, finance, e-commerce, Internet, government and enterprise, and other types of users outside and within JD Cloud.
Deployment Architecture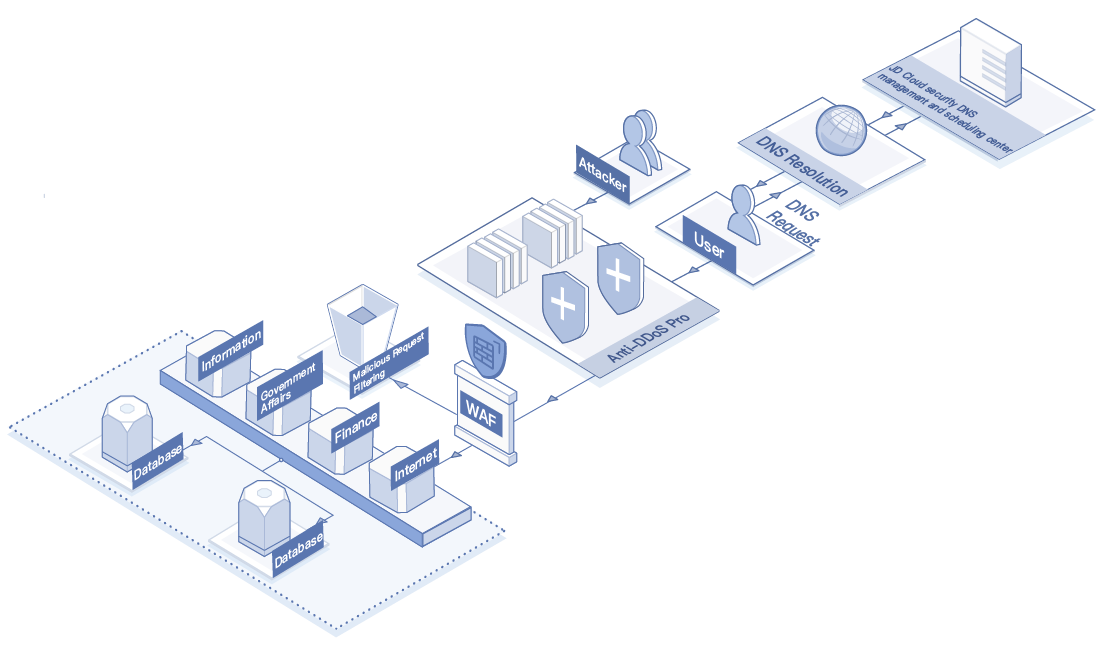 The excellent deployment architecture for Anti-DDoS Pro + Web Application Firewall is as follows:
Security Dispatching Center of JD Cloud resolves the domain name of the user to Anti-DDoS Pro CNAME through DNS resolution.
User's normal access traffic and DDoS attack traffic through Anti-DDoS Pro cleaning, and the back-to-origin is returned to Web Application Firewall.
The attacker's malicious request is filtered by the Web Application Firewall and returned to the user's Origin Server.
Web Application Firewall can protect servers of any public network, including but not limited to JD Cloud, other vendors' cloud, IDC, etc.
Scheme Advantages
The Origin Server of the user acts as a hidden Origin Server IP behind the Anti-DDoS Pro and Web Application Firewall.
CNAME access, simple configuration, reduces works of operation and maintenance personnel.